Project
Personalized Text Messages Boost Payment of Delinquent Court Fines
Organization : B-Hub Editorial Team
Project Overview
Project Summary
The UK Behavioural Insights Team sent text message reminders to debtors who had failed to pay a court-ordered fine. The messages varied in whether the subject's name and the exact amount of his/her outstanding fine were included.
Impact
A personalized text message using the debtor's name increased the average amount of fines paid by 189 percent, from £4.46 to £12.87.
Challenge
As of 2007, the UK Ministry of Justice was imposing over £350 million in new court fines annually, only half of which were collected within six months. In 2011, the Ministry faced over £600 million in outstanding unpaid fines.
Her Majesty's Courts and Tribunal Service (HMCTS), which administers the collection of fines, incurs significant costs from non-compliant debtors. In addition to resources for case-management and follow-up phone calls, bailiffs are assigned to recover the debt directly. As of 2012 there were 580,000 of these bailiff cases each year, which often end up back in court and require further processing.
Design
Researchers from the UK Cabinet Office's Behavioural Insights Team targeted debtors who failed to pay their court fine on time. All subjects had already received a written notice in the mail warning them that a bailiff could enforce the fine through arrest or seizure of property.
On the Monday after the payment deadline was missed, HMCTS sent subjects a text message. All messages contained the basics: a reminder about delinquency, a warning of a bailiff warrant, a payment hotline number, and a reference number. The messages varied in whether the subject's name and the exact amount of his/her outstanding fine were included.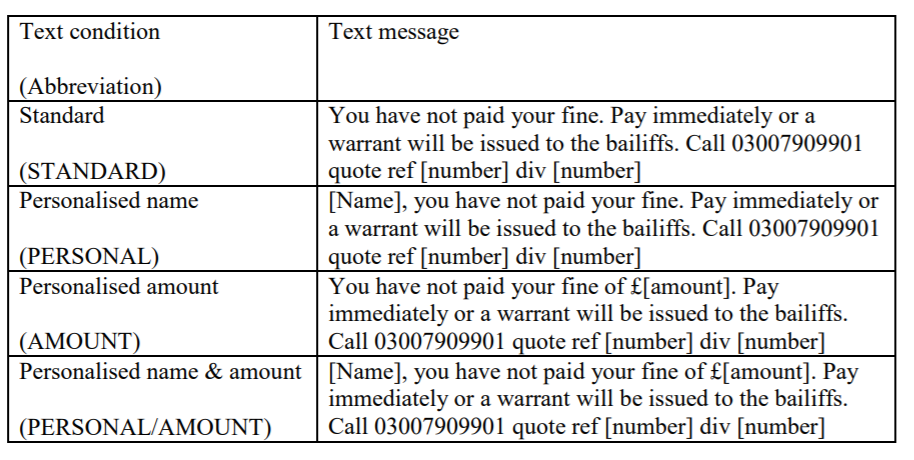 The intervention in early 2012 was implemented in two phases, in three regions of Southeast England. In Phase 1, researchers randomly assigned 1,817 subjects to either receive no message or receive one of the four types of messages. Effectiveness was measured by the average amount paid within seven days. In Phase 2, researchers eliminated the "no message" group to instead focus on comparing the effectiveness of messages that included the specific amount owed and/or the debtor's name. The second phase involved 3,633 subjects.
Impact
In a randomized trial researchers found that sending a text message to non-compliant debtors increased the average amount paid by 145 percent, from £4.46 to £10.94, the mean of all text message conditions. The most effective message – personalized to include the subject's name – increased the average amount paid by 189 percent, from £4.46 to £12.87.
While all text messages effectively increased payments, the researchers found that compared to a standard message with just the core information, a personalized text message increased the average amount of fines paid by 34 percent, from £8.34 to £11.21.
Implementation Guidelines
Inspired to implement this design in your own work? Here are some things to think about before you get started:
Are the behavioral drivers to the problem you are trying to solve similar to the ones described in the challenge section of this project?
Is it feasible to adapt the design to address your problem?
Could there be structural barriers at play that might keep the design from having the desired effect?
Finally, we encourage you to make sure you monitor, test and take steps to iterate on designs often when either adapting them to a new context or scaling up to make sure they're effective.
Additionally, consider the following insights from the design's researcher:
An automated system that allows for easy and inexpensive message customization is important to keep costs down and personalize text messages.
HMCTS had mobile phone numbers for only 23 percent of delinquent debtors and only 54 percent of sent text messages were delivered. Men, young people, and those without prior history of delinquency were less likely to be successfully contacted. If paired with an intervention to increase the number of valid phone numbers collected, the results may have been more easily scaled.
Project Credits
Page submitted by: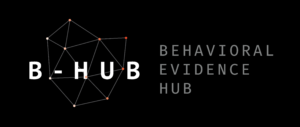 More projects from this organization
Researchers:
Laura Haynes King's College London
Donald P. Green Columbia University
Rory Gallagher The Behavioural Insights Team
Peter John King's College London
David J. Torgerson University of York