Project
Plan-Making Reminders Improve Timely Loan Payments
Organization : ideas42
Project Overview
Project Summary
In redesigned monthly statements, borrowers were prompted to check on a specific date if their accounts had enough cash to cover their loan payment. The statement also encouraged them to plan when to make another deposit into the account they used for repaying the loan. Finally, borrowers were sent strategically timed e-mails and text message reminders before the due date.
Impact
The average number of penalties incurred by borrowers for having insufficient funds in their loan repayment accounts decreased by 23% from 0.17 to 0.13 penalties.
Cost
The intervention cost $0.40 per statement.
Challenge
Accion is one of the largest microlenders in the United States, offering loans to low-income consumers who are often shut out of traditional credit channels. However, many borrowers have trouble making consistent, on-time payments using the accounts Accion designates for that purpose. There are many behavioral reasons for this: many people forget to put sufficient funds in their designated loan repayment account before the due date, some stick with the default pay date even when it's not ideal for their cash flow cycles, or others may procrastinate because of small hassles (such as the walk to the bank). All of these behaviors reduce the likelihood that borrowers will pay on time, which can cause them to incur fees.
Design
A group of borrowers was sent redesigned monthly statements. The new statements included a picture of Accion's CEO to build trust and a sense of reciprocity, a recommended date to check the balance of their loan repayment account, a simplified version of the borrower's payment status, a post-it note to help plan the deposit of funds, and clear step-by-step instructions for borrowers to follow if they wanted to change their payment method.
Borrowers receiving the redesigned statements were also sent e-mail and text message reminders to check their account three and 10 days prior to their payment date, respectively. The timing was intended to generate a sense of urgency, while also allowing recipients enough time to respond to the reminders.
Impact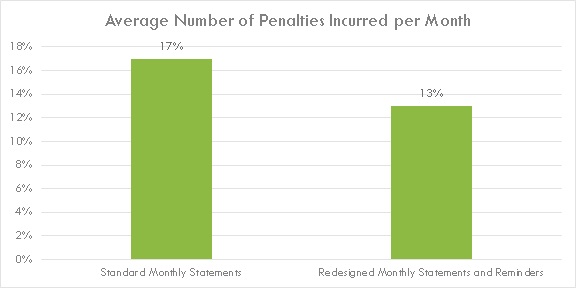 A randomized evaluation found that on average, borrowers who were sent redesigned monthly statements and strategically timed reminders received 23% fewer penalties for having insufficient funds in their loan repayment
accounts than borrowers sent the standard monthly statements (from 0.17 to 0.13 penalties per month).
Notably, borrowers in the lowest quartile for monthly loan repayments who received the new statements and reminders averaged 32% fewer penalties for late payment than their peers receiving the standard monthly statements without reminders, from an average of 0.91 penalties per borrower to 0.62.
Implementation Guidelines
Inspired to implement this design in your own work? Here are some things to think about before you get started:
Are the behavioral drivers to the problem you are trying to solve similar to the ones described in the challenge section of this project?
Is it feasible to adapt the design to address your problem?
Could there be structural barriers at play that might keep the design from having the desired effect?
Finally, we encourage you to make sure you monitor, test and take steps to iterate on designs often when either adapting them to a new context or scaling up to make sure they're effective.
Additionally, consider the following insights from the design's researcher:
To counter forgetfulness, reminders must stand out in the client's mind and be received at a moment when the client can act on the reminder. For example, the addition of a removable post-it note can help monthly statements stand out from similar documents in a recipient's mail.
Project Credits
Page submitted by: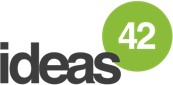 More projects from this organization