Project
Text Messages Improve Retention in HIV Care
Organization : B-Hub Editorial Team
Project Overview
Project Summary
HIV patients in urban Mozambique were sent text message reminders to attend clinic appointments and to pick up their antiretroviral therapy (ART) drugs.
Impact
Text messages to ART patients increased retention in HIV care after 12 months by 4.4 percentage points. New patients receiving reminders were one fifth as likely to discontinue treatment as those who did not receive reminders.
Challenge
HIV is a deadly and easily spread virus affecting much of Sub-Saharan Africa. Treating HIV is possible, but retention in antiretroviral therapy (ART) care is one of the main challenges in preventing HIV-related deaths. In Mozambique, only 74% of patients who begin ART remain in the program a year later. With the number of patients who discontinue treatment still increasing, a method to increase retention is necessary. Mobile phone technology enables communication across socioeconomic, cultural, and geographic boundaries. Previous text message reminders have shown increased adherence to ART treatment. This study aims to build upon these previous findings to increase ART retention in Mozambique.
Design
Researchers partnered with two urban health centers in Mozambique to send ART patients reminder text messages over a twelve month period. The intervention group received four different types of text messages: welcome/farewell, appointment, medication, and educational. Sample messages for each type are outlined below.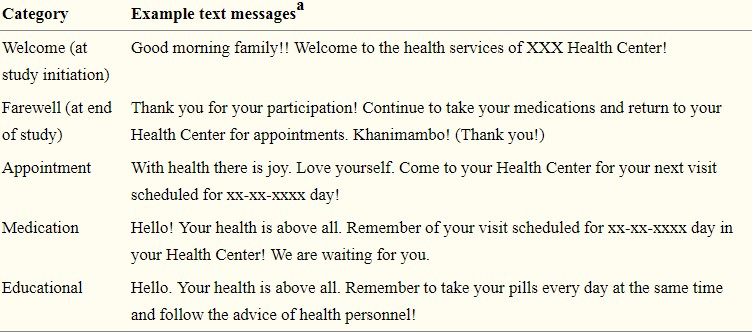 Participants in the control group did not receive text message reminders, but did receive the standard of care, which included in person reminders regarding upcoming appointments or drug pick-ups.
Impact
A randomized evaluation found that urban patients who received text messages were 4.4 percentage points more likely continue in HIV care after 12 months than patients who did not receive text messages (94.3% vs. 89.9%). The intervention was most effective among patients who had begun treatment within three months of the study's start; their risk of attrition was only one fifth that of new patients who had not received text message reminders.
Implementation Guidelines
Inspired to implement this design in your own work? Here are some things to think about before you get started:
Are the behavioral drivers to the problem you are trying to solve similar to the ones described in the challenge section of this project?
Is it feasible to adapt the design to address your problem?
Could there be structural barriers at play that might keep the design from having the desired effect?
Finally, we encourage you to make sure you monitor, test and take steps to iterate on designs often when either adapting them to a new context or scaling up to make sure they're effective.
Additionally, consider the following insights from the design's researchers:
Researchers partnered with Vodacom, who provided free text messages, modems, and technical support. Each text message was less than 160 characters to ensure that it could be received by all types of cell phones.
Welcome/farewell texts were sent at the beginning and end of the 12-month trial. Appointment reminder texts were sent two days prior to clinical visits. Reminder texts were sent two and seven days prior to clinical visits or drug pick-ups, respectively. Educational texts were sent every 60 days throughout the intervention period.
Would this work elsewhere?
This study excluded individuals who did not own cell phones; this selection criteria may not give an accurate representation of the general population. For example, there is a large gender gap in cell phone ownership in Mozambique, which may have affected this study. 82% of the participants excluded for not owning a cell phone were women.
In Mozambique, there is also a high rate of illiteracy. While a barrier to participating in this study, this may or may not be a limiting factor in replicating studies. Leaving voice messages may be a way to reach an illiterate population to avoid selection bias.
Overall retention in ART care in this study was very high, at 90%. Text message reminders may have a greater impact in areas where the overall retention rate is lower.
This text message intervention was effective among urban patients, but showed no effects in a small sample of patients at a rural health clinic where it was also tested. The rural health clinic was located near an international boarder that may have dissuaded travel to the clinic, and poor access to electricity and unreliable cell service could also have contributed to the findings. It is important to be strategic in how a health clinic location is chosen to avoid barriers that might influence participants' retention.
Project Credits
Page submitted by: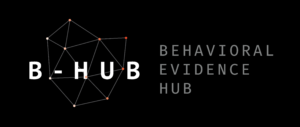 More projects from this organization
Researchers:
Dvora Joseph Davey University of California, Los Angeles
José António Nhavoto Eduardo Mondlane University, Mozambique
Orvalho Augusto Eduardo Mondlane University, Mozambique
Walter Ponce Absolute Return for Kids (ARK), Mozambique
Dalia Traca Absolute Return for Kids (ARK), Mozambique
Alexandre Nguimfack Absolute Return for Kids (ARK), Mozambique
Cesar Palha de Sousa Eduardo Mondlane University, Mozambique